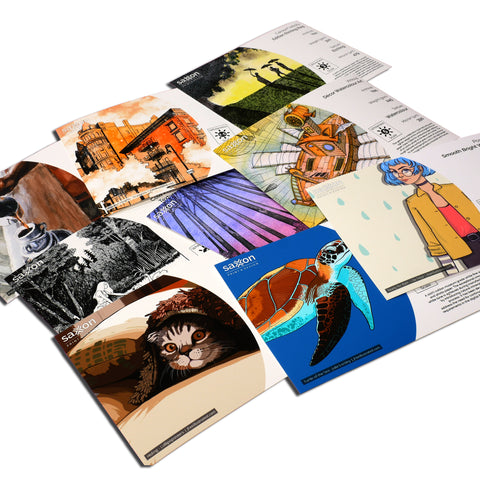 Giclée Sample Pack
DESCRIPTION

Can't decide which material to print your images on? Order a pre-printed sample pack of seven media types, see and feel the quality for yourself to find the perfect paper for your project. Along with your sample pack you will receive a voucher code which can be used to save £5.00 off any product in our 'Giclée Art Prints' collection.
Our handy blog explains more about giclée printing.
The pack consists of high quality images printed on the following media:
Canson® Infinity Aquarelle Rag 310gsm

Canson® Infinity Edition Etching Rag 310gsm

Canson® Infinity Rag Photographique 310gsm

Innova Smooth Cotton 315gsm

Innova Soft Texture 'Etching' Cotton 315gsm

Innova Cold Press Rough Textured Cotton 315gsm

Innova Décor Watercolour Art 245gsm

Innova Décor Smooth Art 210gsm

Smooth Bright White Poster Paper 230gsm
TURNAROUND TIMES
Standard turn around 1 full working days plus delivery. Turnaround times are counted in full working days and do not include delivery times. If you place, pay and approve your order to print after 11.00am the turnaround times will start from the next working day. (weekends and bank holidays are not counted as working days).
DELIVERY TIMES
Parcels are usually delivered within 2-3 working days, but can take up to 7 workings days depending upon location. As different products have different turnarounds depending upon the complexity of production involved we may dispatch your order as separate parcels.
FILE FORMATS
We can accept files in the following formats:
JPEG
TIFF
PSD
PSB
PDF
EPS
RESOLUTION, COLOUR SPACE & PROFILES
We work at 300ppi (pixel per inch) so ideally your images should be saved at 300ppi at your chosen print size before sending them to us.
Images can be CMYK or RGB so you can leave them in the colour space you made the original file in. We recommend Adobe RGB (1998) if you're working in RGB. If you want to soft proof we have ICC profiles available here.
Layers & Compression
Files with multiple layers must be flattened before you send them, these are usually file formats such as PSD and PSB (Adobe Photoshop files) or TIFFs.
If the format that you are using allows for compression (such as jpeg or pdf) please select the highest quality available. When using compression on your print file this will have adverse effects on the final print quality.
FILE SIZE
The largest image you can upload through our website is 20MB, however, we can accept larger images can be sent to us via www.wetransfer.com.
RESIZING & ENLARGING IMAGES
We're happy to resize your image to your chosen print size and will send you a layout proof for approval before proceeding printing. Ideally 300ppi is the required resolution for print but we appreciate that this may not always be possible. If your unsure about how big your file will enlarge by you can email it to info@saxonprint.com or if the image is over 10MB it can be sent to us via www.wetransfer.com. If your image is too small for your chosen print we will let you know before we send you a proof and we will also let you know the largest possible size.
PROOFING
Before we proceed to print we will send you a layout proof via the email address you provide during the ordering process. This gives you a chance to check the image is correct before we go to print. Please note that we will not print your file unless we have received confirmation that the proof is okay to print.
We do not check the content of your file(s) i.e. telephone numbers, spellings etc. and will not be held responsible for any errors and or omissions arising from any mistake(s) originating from your file. By clicking on 'Add to Cart' you are agreeing to our terms and conditions. Click here for more details.
Our Printing Process
Printed at 1440dpi x 720dpi on our specialist Epson Surecolor 11 colour press:

Matte Black
Photo Black
Light Black
Light Light Black
Vivid Magenta
Vivid Light Magenta
Cyan
Light Cyan
Yellow
Green
Orange
Epson Ultrachrome® HDX inks ensure that your artwork is reproduced in stunning quality. Epson Ultrachrome® HDX inks provide a much wider tonal range than even the best home printers. This means higher colour accuracy, greater subtlety and smoother gradations for your images.
Climate controlled stage and production environments ensures that your prints are consistently printed to the highest possible standard.
Our Paper Range
We know that when you are planning to order prints of your artwork, selecting the right paper and obtaining a reproduction quality that you are pleased with is vital. If you are not sure which paper stock is right for your prints, consider obtaining our giclée sample pack. We also offer a discounted A4 proof option.
---
We Also Recommend